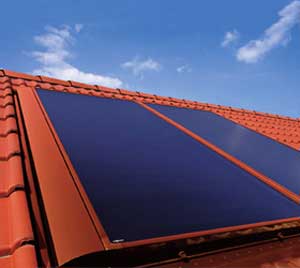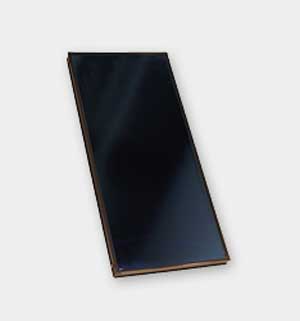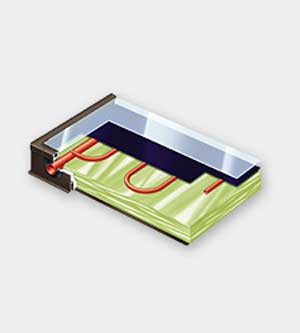 Powerful, durable and even easier to install. Vitosol 200-F flat-plate collectors make an impression with their high efficiency and their attractive price/performance ratio. The Vitosol 200-F flat-plate collector that has been successfully used for many years now, has been further improved; its even lower weight makes it even more easy to install. High quality ensures permanent operational reliability, a long service life and high efficiency.
Long term efficiency. The highly selective Sol-titanium coating efficiently utilises the solar irradiation and achieves a high efficiency. The Vitosol 200-F housing comprises an all round folded aluminium frame without mitre cuts and sharp edges. Together with the seamless weather and UV resistant pane seal and the puncture proof back wall, these features ensure a long service life and long-term high energy yields. 
Attractive design, individual colour finishes. Why not integrate your solar collectors into the roof design? Vitosol 200-F can be integral to the roof cover. The edge trims (available as accessories) help to create a harmonious transition from collector surface to roof cover. Upon request, frames are also available in special colours (RAL).
Tailor-made for every demand. With their absorber areas of 2.30 m², Vitosol 200-F flat-plate collectors can be effectively matched to any energy demand. The collectors can be vertically or horizontally installed. 
Clever installation saves time and money. The Vitosol 200-F is particularly easy to install. The collectors only weigh 52 kg making transport onto the roof and installation easier. Corrugated stainless steel pipe plug-in connectors safeguard an easy and quick collector installation.
Benefits at a glance:
Powerful flat-plate collector with copper absorber and highly efficient Sol-titanium coating
Copper absorbers have a meander pattern with integral headers – up to 10 collectors can be connected in parallel
Universal application for rooftop, roof integration and freestanding installation
Attractive collector design, frames in RAL 8019 (brown); for large area flat-plate collector in bright aluminium. Upon request, the frame is also available in all other RAL colours
The selectively coated absorber, the cover made from low ferrous solar glass and the highly effective thermal insulation ensure high solar yields.
Permanently sealed and high stability through all-round folded aluminium frame and seamless pane seal
Puncture-proof and corrosion-resistant back panel
Easy to assemble Viessmann fixing system with load tested and corrosionresistant components made from stainless steel and aluminium – standard for all Viessmann collectors
Quick and reliable collector connection through flexible corrugated stainless steel pipe plug-in connectors

Learn about the cold solar technology

Contact