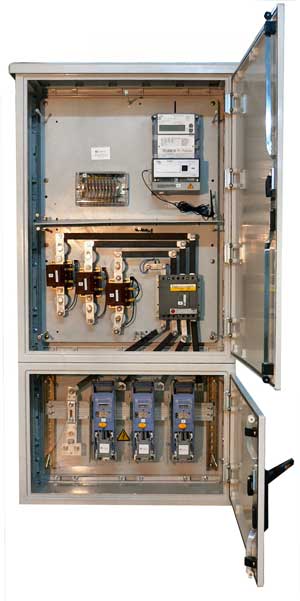 SIMELEC offers measurement equipment for photovoltaic power installations that comply with the measurement point regulations and specifications of all Spanish Electricity Companies: Iberdrola, Unión Fenosa, Endesa ...
Likewise, we are in charge of the design and commissioning of the communications bus (RS485, Optic fibre, Ethernet, GSM, etc) in photovoltaic power plants where various units must communicate to take the remote measurements. This allows our customers to stop worrying about one of the most important and sensitive parts of an installation, which is required to bill electrical energy and which is mainly responsible for the profitability of the photovoltaic power plant.
General Features:
Indoor or outdoor installation, depending on the requirements.
Options: up to 5 Kw, up to 41.5 Kw, or up to 100 Kw.
In the case of indoor models, the cabinets have been manufactured with fibreglass reinforced polyester and the covers are made with transparent polycarbonate, protected against UV rays.
In the case of outdoor models, the cabinet has been built with fibreglass reinforced polyester.
All outdoor units have a 3 mm thick polycarbonate protection plate with an "electrical risk" label.
LANDIS+GYR measurement and communications equipment on a polyester base plate.

Contact