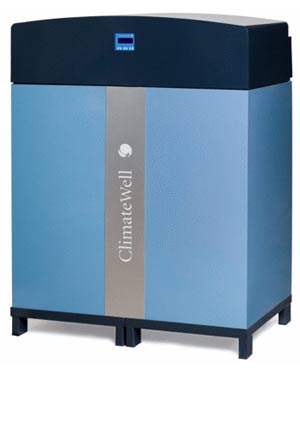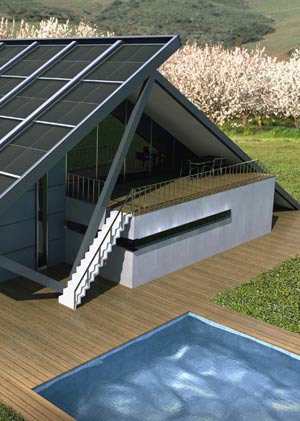 Converting solar thermal power into cold to cool an environment is now possible thanks to the technology patented worldwide by the Swedish company Climatewell.
This was possible until now with absorption machines, by what makes this technology unique in the world, is its capacity to store thermal energy and offer it when it is needed, with no need for external energy sources, for example, during night or cloudy days when the solar radiation is minimal.
The system replaces conventional air conditioning and heating units powered by non-renewable sources of energy and it introduces a system that achieves a greater comfort and a drastic reduction in the emissions of CO2 of up to 15,000 Kg/year and per unit installed.
However, this technology not only improves the efficiency by the fact that it is powered by solar energy. The savings in the consumption of electricity can reach 85% when compared to conventional air-conditioning systems, since no compressor is used, so that the energy classification of the building is improved.
Other advantages of this technology are:
Independence from other energy sources.
Integration of heating, cooling and DHW with a single unit.
Safety, protecting the installation against overheating.
Absence of mechanical elements in the unit, reducing the maintenance costs and concerns to users.
This technology can be applied to any type of construction, from a simple single-family home, to office buildings, hotels, hospitals, etc, to the generation of cold in an industrial process where there is residual heat, such as cogeneration systems or excess process heat.
Installation Elements
Solar Energy Collection Circuit
Solar panels collect the sun's radiation and heat the heat bearing fluid. This energy will feed and be stored in the ClimateWell system. Other sources of renewable energies can be used, such as, for example, biomass boilers or the residual heat of any industrial process (/process water, combustion heat, etc).
Distribution Circuit
The use of a radiating circuit (floor and/or ceiling) means that energy in the form of heat or cold will be uniformly and silently distributed inside the home, avoiding cold currents, the noise of fans, while avoiding an excessively dry environment.
ClimateWell recommends the use of an underceiling/underfloor heating system but other distribution systems can be used, such as: Fancoils, Air conduits, etc. In any case, we will always find the best solution for you, both in technical and economic terms.
Dissipation Circuit
All cold producing machines actually "steal" the heat from inside the building. This heat can be, for example, transferred to a swimming pool to create an "added value" instead of discharging it into the atmosphere, heating a swimming pool to make sure that all of the energy generated by the system is used. In addition, other dissipation elements can be used, such as, for example: geothermal exchanger, vertical or horizontal, a forced convection heater or cooling tower. In general, the choice of this type of dissipater depends on the geographical area and we will study the different options available in each case.
International Awards:
A good example of the innovation and reliability of this technology is the number of international awards it has received.
2008
SACC Deloitte Green Award 2008. Clean energy entrepreneur. USA
Stora Teknikpriset. Second place in Sweden's technology awards.

2007
Technology pioneer 2007. World Economic Davos Forum.
Entrepreneur of the year. Globe Forum.
Second place in the "European of the year" and "Business leader of the year" awards.
The Economist. Per Olofsson CEO of Climatewell
Environmental Award, presented by Expansión, Garrigues and CISS.

2006
Svenska solenergiföreningen. Thermal Solar Energy Association, Sweden. First place.

2005
Solar Air Conditioning. Germany. First place.


Demo solar air conditioning.

Climatewell 10 - 1.1 MB

Contact