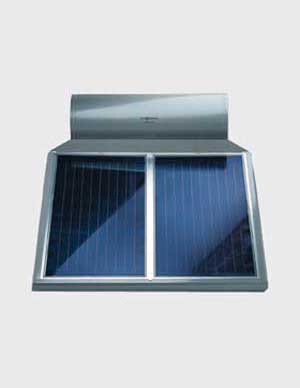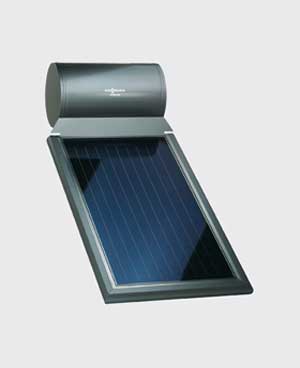 Vitosol 222-F makes the supply of abundant domestic hot water with solar energy simple and cheap.
SIMELEC brings solar energy to every home.
Its low cost of acquisition and the high quality of the materials used (a manufacturing standard in Viessmann) guarantee an impeccable operation during many years. The high-efficiency of the solar collector is achieved thanks to its selective coating, a 4 mm thick solar glass sealed on the aluminium frame with a continuous seal. We do not merely wish to produce abundant hot water, i.e., we wish to do so with hygienically and safely. The design of the inter-accumulator and its double ceramic coating minimise the risk of contamination by Legionella, among others.
Accumulation volume: 150 and 300 litres.
Advantages:
- High efficiency. Uses solar collectors with selective coatings.
- Maximum durability. Developed to support the most rigorous climatology conditions, with the use of the most adverse water qualities, thanks to a dual closed circuit and double ceramic coating of the inter-accumulator.
- High operating safety. All materials used comply with the quality standards of Viessmann and are manufactured to comply with the most rigorous European regulations and directives. Quality control of 100% of the production.
- Integral guarantee. Solar collector manufactured with a 4 mm thick aluminium and glass frame, sealed with no joints, selective coating and 40 mm thick high-density insulation. Double jacket accumulator and double ceramic coating. Working pressure: 6 bar. Outdoor insulator, with a thickness of 50 mm. With integrated expansion and additional protection with a magnesium anode and optional induced current.
- Architectural integration. Vitosol 222-F can be installed on any type of home. It can be installed on flat and sloped roofs, where functionality and aesthetics can coexist in perfect harmony.
- Innovating and attractive design. Make your home different. VITOTEC's design gives the system an innovative and modern character. Quality can be perceived at a glance. Vitosol 222-F is convincing.

Architectural Integration Viessmann - 2.9 MB